FsPassengers soon on Prepar3D
Posted: Sat Nov 28, 2015 8:34 am
FsPassengers

is an award winning addon developed originally for Fs9 then FsX, FsX steam and soon on Prepar3D 2.5 and 3.0. It's planned at last for Christmas 2015 and you can read here about it's development and release date.
Some of FsPassengers features
1211 crew and co-pilot announcements + in-flight enhancement sounds.
Unique and challenging failures (as belly landing in case of gear failure, no other add-on offer that).
Full and detailed flight reports
An economic mode, your company's success is entirely tied to your flight results.
A career mode for Pilot: fly like a professional and be promoted or make odd mistake and be downgraded.
Fully configurable, you can fly without career or economic mode, set percentage of failure etc. etc.
etc. etc. (too much to list here :)
The main feature: Human factor & Realism enhancement
In Prepar3D there are almost no constraints, charge, rules and obligation for pilots. You can shake your aircraft, make a tail strike during take-off, land off strip, push back with full engines, exceed VNE or VFE, forget your instruments or flaps,

nobody will ever notice

and you can still pretend you are a great pilot because you just landed in one piece.
In Reality you must take great care not to exceed any limitation, fly smoothly, be precise, monitor your instruments and never forget any vital operation. This additional brain charge (well known in real aviation as the human factor) leads to errors paid cash, with money, career or... human life.
With FsPassengers every pilot action is noticed,

you are not alone in the sky anymore !
The heart of FsPassengers : Flight Reports
FsPassengers can record your flights and you'll be rewarded and pursue a great career or be fined, and even downgraded if you do odd things. Your company may even bankrupt (in economic mode) if you damage your aircraft or if your company's reputation is bad because of your odd flights.
All the Flight Reports first contain detailed data on your flight:
Then the passengers opinion will determine your company's reputation. You can provide a number of goodies to please them even more and they will notice everything: shaky flight, weather, service etc.
Finally your performance, income (in economic mode) and result:
You can not forget any more to close a door before take-off
and laugh because no-one noticed...
And it might be worse than that....
It's easy to miss a bird strike during take-off on an airliner, but missing the oil instrument showing a temperature anomaly
leading to an unmanaged engine flame-out was a major pilot error
...
You may not record a flight
, but may also perform better than this pilot and have a look at your instruments... lesson learnt.
And well learnt, hopefully. :)
You can determine your company's profile, ticket prices, product quality, (low cost, normal etc. etc. This is why the pax on the previous report qualify the service as "bad", the product are low quality on this company)
Company reputation, number of flights made from one airport, quality and prices will determine how much passengers want to board your aircraft at each flight:
During flight a fully customisable mini panel provides you with informations and helps flight management (Temporary flight report is available too):
Follow up your career and flights:
Well... there are plenty of unique features; such as tire explosion, landing gear failure, dialogs etc. etc: (images taken on FsX version)


Example of payload loader
when starting a FsPassengers Flight
:
The main menu:
In flight sounds and crew announcements
Each "Crew pack" contains
135 announcements
, from safety to food service, co-pilot thought, passengers reations etc... etc.. You can have an excerpt on this trailer video on FsX (recorded long ago):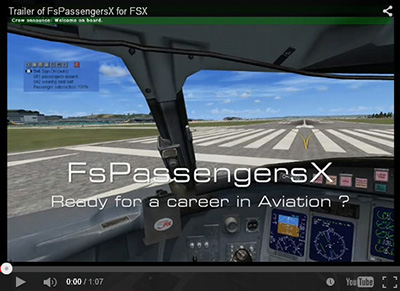 Soon on Prepar3D 2.5 and 3.0
(And deeply sorry for the typos, English is not my mother tongue )
http://www.fspassengers.com/forum/read. ... 52&stick=1
Dan
(author of FsPassengers)