Hi all,
I am experiencing a very tough issue with my AI and default ATC.
System:
Intel i7 4790K @ 4.6 Ghz
16 GB RAM
Geforce 1080ti 11 GB
Windows 10 x64
P3D installed @ Samsung 960 EVO
Sim:
Prepar3Dv4.3
Custom AI:
- I.e. AIG, FAIB, FSP models
- Approx. 1500 flightplans
- 13 GB of AI textures (every texture DDS DXT1; 682kb or DDS DXT5 1.33MB when alpha channel is present)
- ORBX FTX Global
- EditVoicePack
- QW787 and Aerosoft Airbus
- Different payware sceneries
I am doing a flight from EDLW to EDDF with 100% AI. Everything is OK, FPS stable between 30-40 FPS. Using default ATC for guidance and flight planning. When approaching Frankfurt and ATC instructs me for the approach the sim is heavily stuttering (3-4 FPS) for an amount of time. The Aerosoft Airbus requires 18FPS for the FBW system so the plane is going crazy and unflyable. From the FSUIPC log (free version) I see the sim reads approx. 200 aircraft at the time.
Below an image to demonstrate. ATC gives me instructions, sim is falling back to 3 FPS and after that Airbus is shaking: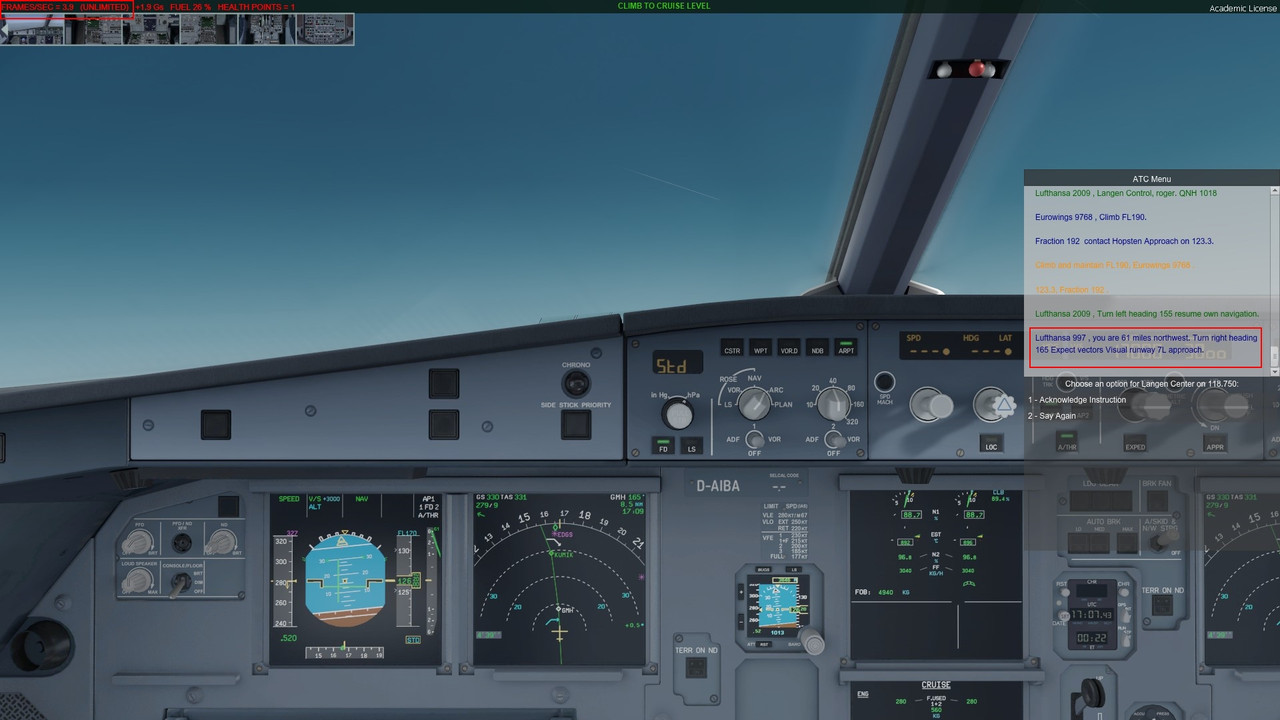 Only workaround I have found so far:
- Disabling AI entirely (solves the issue)
- Pause when the stutters occur and wait the sim to stabilize
I have spent an entire weekend in looking for solutions like;
- Updating drivers
- Cleaning shaders and config files
- Rule out different sets of AI
- Lowering settings
- Disabling EditVoicePack
- Trying tools that remove certain AI traffic
None of them lead to the desired result.
My question; what is
technically
happening at the point where the stutters occur? Is it indeed the amount of AI that is being loaded? And most of all what are my options except disabling AI or hit the pause button.
And before concluding to lower the AI setting, in the past (FSX and lower P3D versions) this was working fine. Also a hickup when ATC instructs me but only for a second or so.
Any help is greatly appreciated!
Erik